Sink the Sled 2022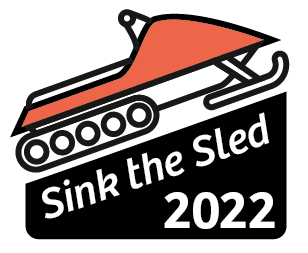 Sink the Sled is a contest sponsored by the Houghton Rotary Club. We've placed a vintage snowmobile (sled) on the frozen surface of Portage Lake near the Lift Bridge on the Houghton side of the canal. Guess the correct month, day, hour, and minute that the sled sinks into the canal and you could win up to $1,000.
About the Sled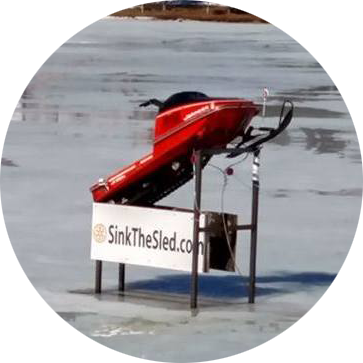 Our 1970s vintage Johnson snowmobile was stripped of its gas tank, engine, clutch, belts, seat, and steam-cleaned to make it environmentally friendly before being placed on the ice. After the sled sinks, it will be removed from the water. The Houghton Rotary Sink the Sled Committee coordinated this effort with the Coast Guard, the Michigan DNR, and the Department of Environmental Quality to eliminate safety concerns.
How to enter
The sale of entries for this year's contest has ended as of April 7, 2022. Entries are available for sale online at this website. Entries may be purchased until either the sled sinks or April 30, 2022 at 11:59:59PM (whichever is earlier). The winning entry will receive 50% of the net sales, up to a maximum prize of $1,000. The remaining proceeds will support Houghton Rotary service projects.
Pay $5 for one guess/entry or $10 for three guesses/entries. The guess closest to the date and time of the sinking will be determined by a time-stamped webcam video. Entrants must be at least 18 years of age. You may purchase as many guesses as you wish.
About the Houghton Rotary Club
The Houghton Rotary Club is a part of Rotary International, a global network of 1.4 million members in more than 46,000 clubs who come together to make positive, lasting change in communities at home and abroad. Our motto is Service Above Self, and the Sink the Sled fundraiser will benefit local youth and the community. For more information on Houghton Rotary, go to houghtonrotary.org. Learn more about Rotary at the Rotary International website .